Seth Bullock, is a former U.S. Marshall of the Montana Territory, Co-Owner of Star & Bullock Hardware, and Sheriff of Deadwood.
In the Pilot, we see Bullock watching over inmate Clell Watson, who has been convicted for stealing a horse. Clell attempts to negotiate with Bullock for his release, but they are interrupted when Sol Star informs them the horse's owner has gathered a drunken angry mob, and they are waiting outside, demanding Bullock hand over Clell to them. Bullock confronts the mob, and refuses to hand over Clell. He takes down Watson's last words, hangs him, and then gives them to a mob member who volunteered to take them to Watson's sister. Bullock and Star then leave for Deadwood in a wagon...
Read more...
Timothy Olyphant (Bullock)


Loading RSS data...

---

Robin Weigert (Jane)


Loading RSS data...

Molly Parker (Alma Garret)


Loading RSS data...

---

Powers Boothe (Cy Tolliver)


Loading RSS data...

Ian McShane (Swearengen)


Loading RSS data...

---

Kim Dickens (Joanie Stubbs)


Loading RSS data...










Welcome to the Deadwood Wiki. Home of the greatest TV show ever!
The free encyclopedia dedicated to the hit TV show Deadwood that anyone can edit!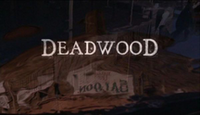 Anyone can edit?
Absolutely! This site is what's known as a Wiki and as such can be edited by anyone! Editing is easy and you don't even need an account! See Help:Editing for more information. This Wiki is a continuous work in progress, it currently only has 48 Deadwood-related articles so all contributions are greatly appreciated!
Love Deadwood? Why not create an account and join the community!
Get Involved! Enter the name of a character, episode or anything else Deadwood related into the box below and click "create" to create a page on the Deadwood Wiki.