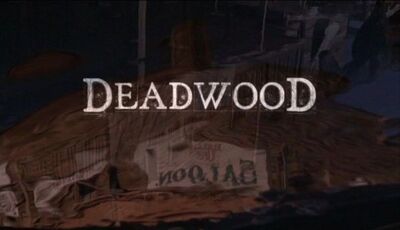 Administrators • Recent Changes • New Photos • New Pages • Help Wiki
This wiki is dedicated to the American western television series Deadwood. Please help us by creating or editing any of our articles! We currently have 806 edits to 48 articles and 95 images on this wiki.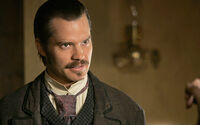 Seth Bullock, is a former U.S. Marshall of the Montana Territory, Co-Owner of Star & Bullock Hardware, and Sheriff of Deadwood.
In the Pilot, we see Bullock watching over inmate Clell Watson, who has been convicted for stealing a horse. Clell attempts to negotiate with Bullock for his release, but they are interrupted when Sol Star informs them the horse's owner has gathered a drunken angry mob, and they are waiting outside, demanding Bullock hand over Clell to them. Bullock confronts the mob, and refuses to hand over Clell. He takes down Watson's last words, hangs him, and then gives them to a mob member who volunteered to take them to Watson's sister. Bullock and Star then leave for Deadwood in a wagon...
Read more...
Timothy Olyphant (Bullock)


Loading RSS data...

---

Robin Weigert (Jane)


Loading RSS data...

Molly Parker (Alma Garret)


Loading RSS data...

---

Powers Boothe (Cy Tolliver)


Loading RSS data...

Ian McShane (Swearengen)


Loading RSS data...

---

Kim Dickens (Joanie Stubbs)


Loading RSS data...











Are you excited about the potential return of Deadwood?